If ever wondered what type of paid online advertising strategies are out there, here are 9 types of paid ads along with some pointers for deciding what medium is best for you.
You've probably tapped an image on Instagram, watched a video on TikTok, or clicked a search engine result, only to realize it was only an ad. Chances are you might not have even realized it was a type of paid advertisement at all!
In the ever-changing world of the internet, there are more paid ads than ever before. Sometimes they're a little too relevant. (I'm looking at you, Steven Madden with your shoe collection that gets me every time.)
From social media, paid search, or native networks, new platforms, ad formats, and targeting advertising strategies are appearing all the time. Here's the lowdown on all things paid digital advertising.
What is Paid Digital Advertising?
Paid digital advertising is a marketing strategy where organizations pay a search engine or website publisher every time their ad is clicked or viewed. Ads can be seen in search results, on social media, websites, apps, and almost any other digital ecosystem.
We often suggest paid advertising strategies to our clients when they are first starting out with their new brand or business. With this approach, you pay publishers for the attention you received as compared to organic advertising strategies.
Common organic tactics like Search Engine Optimization (SEO) are earned over time and are often a long-term approach. Paid advertising can be a quick solution for earning traffic and more eyeballs on your brand.
How does Paid Digital Advertising Work?
Paid digital advertising works with third-party platforms that sell ad space. Businesses can buy advertising placements by bidding.
You can think of paid digital advertising as an online auction room where different websites and brands bid on each other for exposure. Competitive industries may find that bids for advertising space can be a bit costly.
Alternatively, bids might be lower in regions with fewer populations or for brands with less sought-after services/products. Most platforms provide documentation and research tools for you to determine the average costs for your campaign.
Optimizing and setting up paid advertising accounts correctly can make all the difference. Paid digital advertising publishers use various methods to determine who wins ad space. It all comes down to optimization.
Publishers want to promote the most relevant and easily understood content to their users. Factors such as your website's load speeds, text ratio, and relation to the user, determine the highest performing ads.
If your website is optimized and your ad targets the correct audience with eye-catching creatives and ad copy you can compete for highly visible ad placements. Hard work on the creation and set up of your paid digital advertisements can effectively increase traffic and customer conversions on your site by showing your relevant content to users who are in the market and ready to work with you.
6 Paid Digital Advertising Platform Options
There is an ever-growing list of digital advertising platforms that you can sign up for. Not all platforms may work best for your business. Here are 8 paid digital advertising platform options and the strategies and goals that work best with each.
#1: Display Ads
Display ads can grow awareness of your business online. Each ad placement is targeted to user activity. Display advertisements are often shown to users as they are browsing the internet on banner ads.
Where Can You Place Display Advertisements?
Display advertising is generally pay-per-click and is often can be placed on news sites, blogs, and other publishers. This is how most websites that don't necessarily sell a product or service generate their revenue.
The financial barriers to entering paid display advertising are normally higher than social media or Google ads. Setting up display ads usually requires a higher budget and significant investment before ROIs are seen.
On the other hand, however, using highly trafficked sites to place display ads can help you engage proven and defined target audiences. Most blogs and news sites have a loyal audience focusing on certain publications. If you're reaching the right audience, investing in display ads may be worth investing in.
#2: Social Media Ads
Most of today's social media platforms have their own advertising platforms. Social media ads differ from Google Search ads as you target users based on interests rather than specific search terms.
Facebook and Instagram use audience segmenting tools to highly target users based on their data. These ad accounts are owned by the same company and can be set up together at the same time. Facebook and Instagram use either a cost-per-action strategy (or pay-per-click) or a pay-per-impression strategy. With the pay-per-impression strategy, you pay for the exposure you receive, rather than for the number of clicks.
Deciding What Social Media Channel is Best For You
Most of the time we recommend Facebook and Instagram for paid social media advertising. However, there are other channels that may work better for you depending on your industry.
LinkedIn is a popular channel for advertising B2B products and services. Utilizing Facebook, Instagram, and LinkedIn in a social media paid advertising campaign is a solid strategy to consider here.
LinkedIn advertising is typically a more expensive investment, but Twitter can be another viable option. You can promote tweets, accounts, and even hashtag trends! Promotion costs can range from under a couple of dollars for promoted tweets up to hundreds of thousands of dollars per day for promoted trends.
If you're marketing to customers directly using B2C channels, utilizing Facebook, Instagram, and LinkedIn should be considered, but there are other channels you can add to your marketing mix. TikTok and Snapchat advertisements may be a good option – especially if you're targeting Gen Z.
@stevemadden

How do you style your SM? @jaccirai is here to inspire✨
#3: Video Ads
Did you know that you can add paid video ads on Youtube? This Google-owned company can reach hyper-local geographic regions, age, and gender demographics. You can narrow targeting by recent life events, interests, and keywords.
There are 3 types of paid video ads to consider:
In-stream
Out-stream
Banner
The cost for Youtube ads can depend on the type of video ad you are running. Ads can appear in Youtube search results before videos begin playing, and as ad breaks during the play-through.
Paid video advertising is a good option for powerful and targeted brand building. Plus, these days a full video production crew is not required to make high-quality video content.
#4: Search Engine Advertising
Search engine advertising, also known as pay-per-click or PPC advertising, is the most common paid digital advertising strategy. Businesses pay search engines like Bing, Yahoo, and Google to place ads high up on search engine results pages for relevant keywords.
When paid search ads appear in search results the advertiser does not pay until a user clicks on their ad. Totally different from traditional advertising where you pay $1,000 for a billboard and have no clue who actually went to your website from the ad!
Search engine advertising does offer good control over setting ad spending. Be in mind though having out-of-control keywords bidding on irrelevant queries can blow up your budget quickly though.
#5: Shopping Ads
Paid shopping ads are often overlooked, but are a great tool for e-commerce stores. If your brand sells a product and wants to boost online sales Google shopping or product ads are a great option.
Since the ad showcases the price and high-quality images from the product listing at the top of search engine results, shopping ads show up right when customers are in the market and ready to buy.
#6: Remarketing & Retargeting
Remarketing and retargeting ads are probably the type of paid advertising that gets us shop-a-holics in the most trouble. If you have ever visited a website, clicked on a product, or added something to your cart, just to see it on your Facebook timeline a few days later in ad format, that company is using remarketing to reengage with you.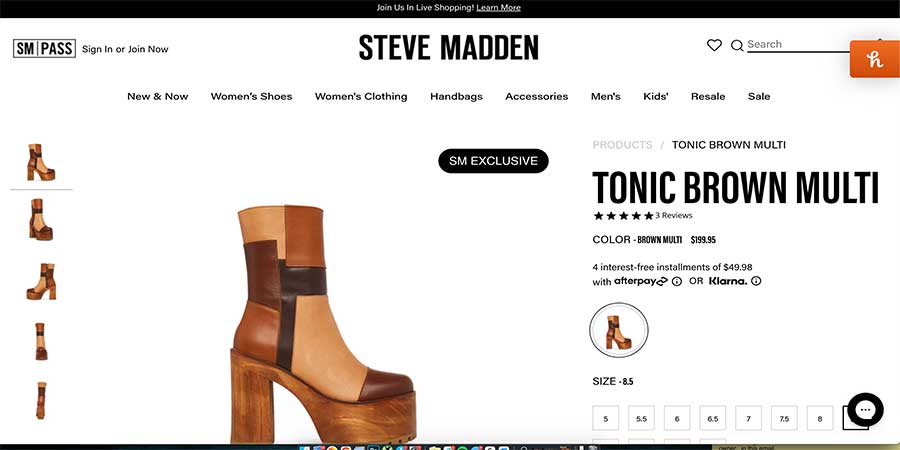 Brands that use remarketing and retargeting strategies use a piece of HTML code to track users and bring former users and customers back to your website by placing an ad in front of them. It is brilliant really and I have been victim to this strategy time and time again.
It's not all in vain, however! 96 percent of website visitors will leave without taking an action on your website. Nearly half of users who do make a purchase visit your website up to four times before they will ever make a purchase.
Our purchase patterns can be complex, so engaging with users on several different platforms is the best way to remind users to complete a conversion on your website. This strategy can be recommended for almost any brand.
What Paid Marketing Strategy is Best
If you are still trying to figure out what marketing strategy is best for your business, the answer might not be as simple as one paid advertising solution. Our marketing consultants can help determine what paid media strategy is most effective.
Take some time to study different paid marketing methods depending on the type of business you run. Setting up your account might be tricky at first and more than one might method be needed in conjunction with others, like the retargeting tacts we discussed previously.
If you want to dive deeper into paid campaigns, contact us to start creating your own tactful approach.